At their inaugural design awards House and Garden awarded Beata Hueman interior designer of the year.  She's been on my radar since House and Garden published her work early 2017. She's an original, her interiors are colourful, witty and sophisticated  crosshatching  materials, eras and shapes into a distinctive style. Each project feels unique to its space whilst sharing signature elements: plenty of bespoke furniture alongside surprises in scale and layout that energise your experience.
Beata for House and Garden
Beata worked for Nicky Haslam   for 9 years, that's quite an apprenticeship, Nicky spans the 20th century greats: from Diana Vreeland's Vogue in NYC, to confidante of  'bright young thing' and aristo style icon Diana Cooper in later life. He swang the 60's  as David Bailey's boon companion and counts Min Hogg founding editor of WOI as a BFF.  So a great first job arriving fresh from Sweden, where from my brief encounter, refined design is part of their DNA.  Outsider's often have a better eye, Beata's absorbed  hi-end English design under Nicky and created a fresh take on British interiors. 
Scaled up faux-marble painted floor in hall with Rose Cummings leopard print settee.
Baroque style emerald clad console table with large scale lamps pack an entry punch.
Woven chairs, Regency style table and a bespoke corner bookcase with her signature lion feet underneath a formal portrait and Chippendale style Gothick corner cupboard with Felix shell lighting.
Simple Calke Green study space with mid century pieces.
An eclectic mix of shapes, styles, periods and angles framed by raised palm planters and the sinking ship.  The walls were painted blue and then layered over in 5 shades of cream glaze to create a richly nuanced neutral backdrop.
Vintage rattan and chic sofa are revved up  in emerald with marbled velvet cushions from Beata and curved orange coffee table.
Feeling the green? I am.  Beata says: I generally think the more colours you add to an arrangement the better it works. If you have a bit of everything nothing looks out of place. That said I am partial to green. The human eye can detect more shades of green than any other colour which means it has great depth. It's strong yet calming. The association with nature adds another dimension too.
Dulux 90RR 52214 pink walls, popping against William Golden's surreal animal prints
Denim upholstery with Dorothy Draper mirrored symmetry behind framing the concealed TV, a signature Beata device, as also seen below in Fornasetti's Nuvole wallpaper.
Beata's home with Nicky's version of John Fowler's famous trompe l'oiel shutter fabric, a favourite which appears regularly in Beata's interiors as seen on the stool.
and the Shutter  below for a client project…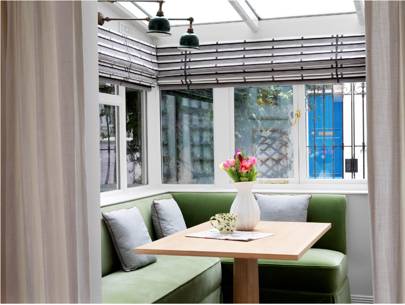 Round sculptural light over an Ici Parisi style curved sofa commune with round rattan table set off by a jolt of blue upholstery.
Sophisticated eating space with pink leather chairs, green window frames and a heft of table under its old school chandalier.
Fun Bedrooms in poppy colours one with stripes and one clearly in Bloomsbury, both with 'palm stripes' a signature Beata fabric .
A client's bathroom feels both simple and faded-grand.
Beata's own bathroom with chic rippled wood fronts.
A new commercial bathroom fully embraces the starry night.
A range of bespoke fittings in chic mid century style colours and shapes creating a highly individual bathroom.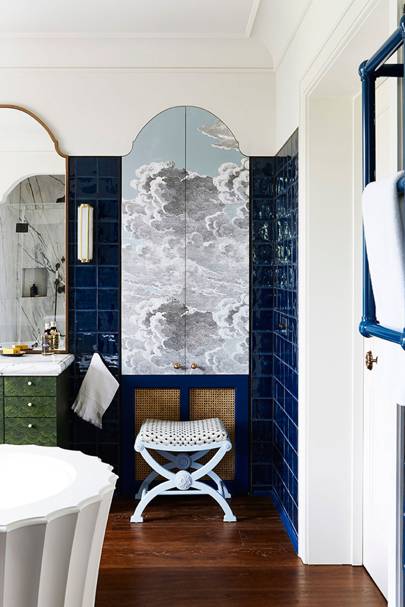 That's Beata – there are signature pieces and colours but each space feels individually defined, she says: What I really want to achieve when designing a space is to make the person forget about the outside world for a little while.  It's about encouraging people to appreciate the moment they are in and I do think that's a good measure of a successful design…it's often about a slightly surreal, graphic or out of the ordinary element – that kind of forces you to react and therefore absorbs you.
Case in point Beata's 'dodo egg' pendant light in client-situ.
Or her own 'Lulworth Blue' ceilinged bedroom: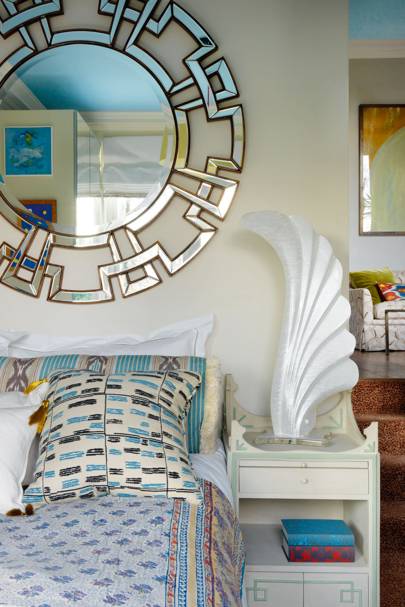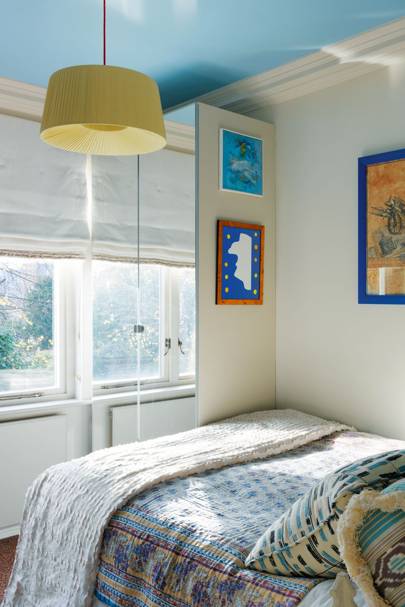 The blue makes it seem higher  whilst simultaneously creating a striking focal point.
This design philosophy is underpinned by her design influences: I adore Jacques Grange and I find the work of quite a few American 20th century designers very interesting such as Billy Baldwin, Elsie de Wolfe and Dorothy Draper. I'm also a big fan of Josef Frank. 
Maybe that's why I am such a big fan, sharing design heroes is always common bond.
Beata image Credits:
House and Garden UK, Dering Hall and 1st Dibs.
Beata image House and Garden UK.
Beata quotes from her journal and interview with Dering Hall.
Design influences: Personally I would add divine Jean Cocteau  who inspired murals at Farm Girl café and more.  Just off to get a coffee….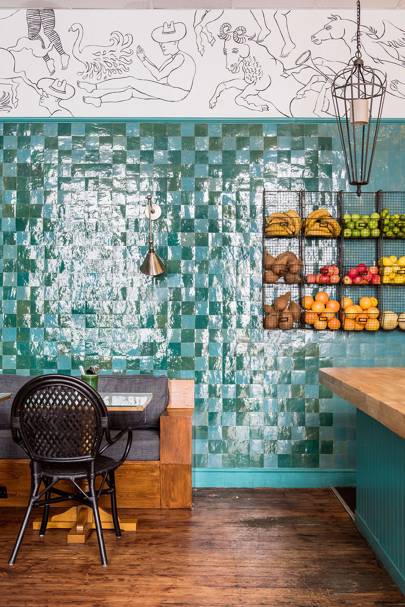 SaveSave